Are you so excited spring is almost here?? I know I am! I love when the weather warms up and all the flowers begin to bloom! I also love all the fun spring themed activities! Here are some of my favorites!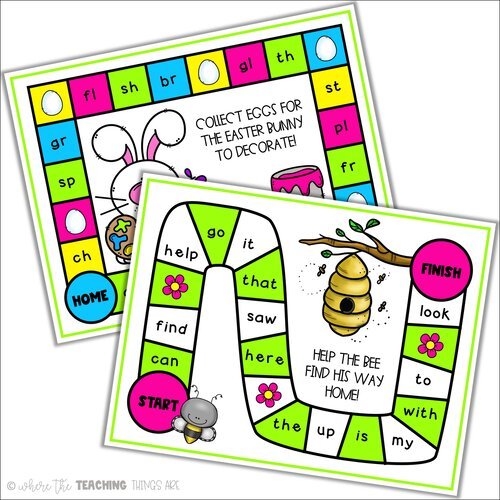 2. Spring Board Games
My students always get so excited when I break out the board games! These spring word work games are not only fun, they're also easy to prep! That's a win! They provide sight word and blends/digraphs practice and can be used to jazz up a literacy center or for small group reading instruction. These games also make differentiating centers a snap!
4. Spring Read Aloud: The Easter Egg Book Companion
The Easter Egg by Jan Brett is a heart-warming story with beautiful illustrations! This book companion will bring the story to life for your students and will help build key reading comprehension skills. It also includes an editable sight word Easter egg hunt – complete with an Easter Bunny headband! How fun is that??
5. Spring Garden Project
This "Design a Garden" project is such a fun way to build your students' critical thinking, math skills, and creativity! It can be used as a stand-alone project or you can use it to design a school garden (or even for your students to design their own personal garden)! This project can be completed as a whole class, in small groups, or individually – it's very versatile! It makes the perfect addition to any spring, garden, or plants unit!
Hope you find some resources that can help you as you plan your spring lessons! Happy Teaching!
~Tara